Merrick Double Brush Dental Chews
Merrick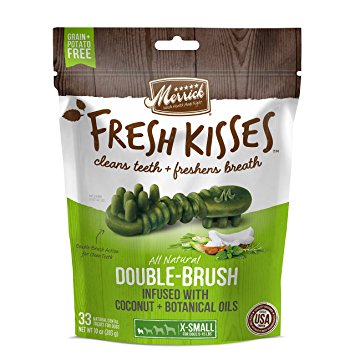 Double the Brushes, Double the Benefits
Merrick Fresh Kisses are an innovative, all-natural dental treat designed not only to clean dog's teeth, but to truly freshen breath at the same time. Merrick Fresh Kisses feature a double-brush design to clean teeth by removing plaque and tartar as the treat is chewed.
Fresh Kisses are made with all-natural ingredients specially formulated to freshen breath. 
grain-free and potato-free
Fresh Kisses are safely cooked in the USA with no ingredients from China.
X-Small: 5-15 lbs, 10oz bag, 33 brushes 
Small: 15-25 lbs, 9.5oz bag, 15 brushes
Medium: 25-50 lbs, 10oz bag, 10 brushes 
Large: 50+ lbs, 11.5oz bag, 7 brushes