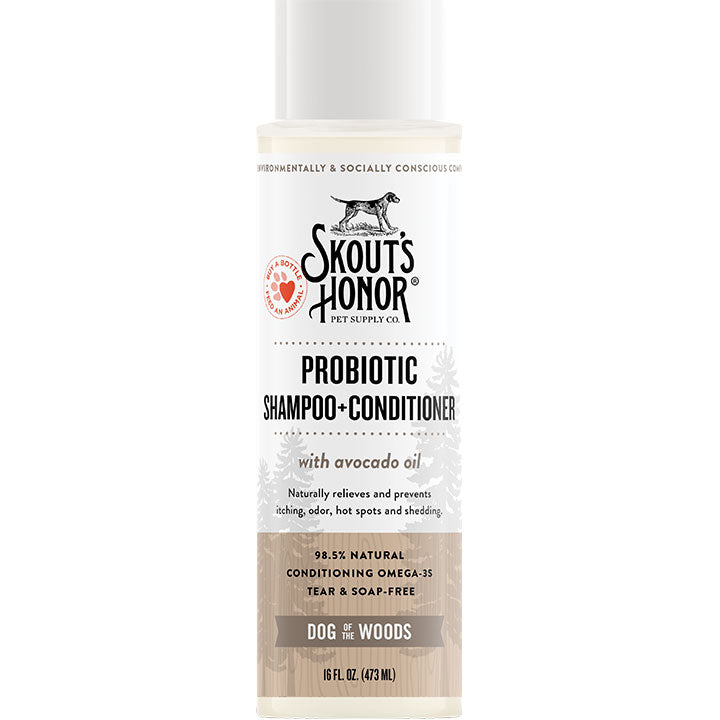 A beneficial probiotic pet shampoo plus conditioner that gently cleans and moisturizes the skin and coat, leaving fur silky and smooth!
DogWood is a beautiful scent of sandalwood and vanilla
Great for pets who suffer from environmental allergies including itching, odor, dryness, hot spots and excessive shedding.  Infused with a live, colony-forming probiotic kefir culture to bring out your pet's natural beauty. Suitable for all skin types and conditions.
WHY PROBIOTICS? Good bacteria serve as a natural defense against the environmental damage and inflammation commonly associated with excessive shedding, itching, dryness, infection and odor. When applied to the skin, probiotics support the good bacteria that naturally calm inflammation and prevent bad bacteria from taking over.
INGREDIENTS: Water (Aqua), Cocamidopropyl Betaine, Lauryl Glucoside, Acrylates Copolymer, Hansenula / Kloeckera / Lactobacillus / Lactococcus / Leuconostoc / Pediococcus / Saccharomyces / Fig / Lemon Ferment (Probiotics), Isoeicosane, Sorbitan Oleate, Cellulose Gum, Chitosan,Citric Acid, Glycerin, Poluquartermium-7, Phenoxyethanol, Fragrance/Parfum, Cocos Nucifera (Coconut Oil), Sodium Hydroxide, Potassium Sorbate, Methylchloroisothiazolinone & Methyisothiazolinone, Ethylhexylglycerin, Persea Gratissima (Avocado) Oil, Argania Spinosa Kernel Oil. (*Fragrance-Free variety does not include Fragrance/Parfum)