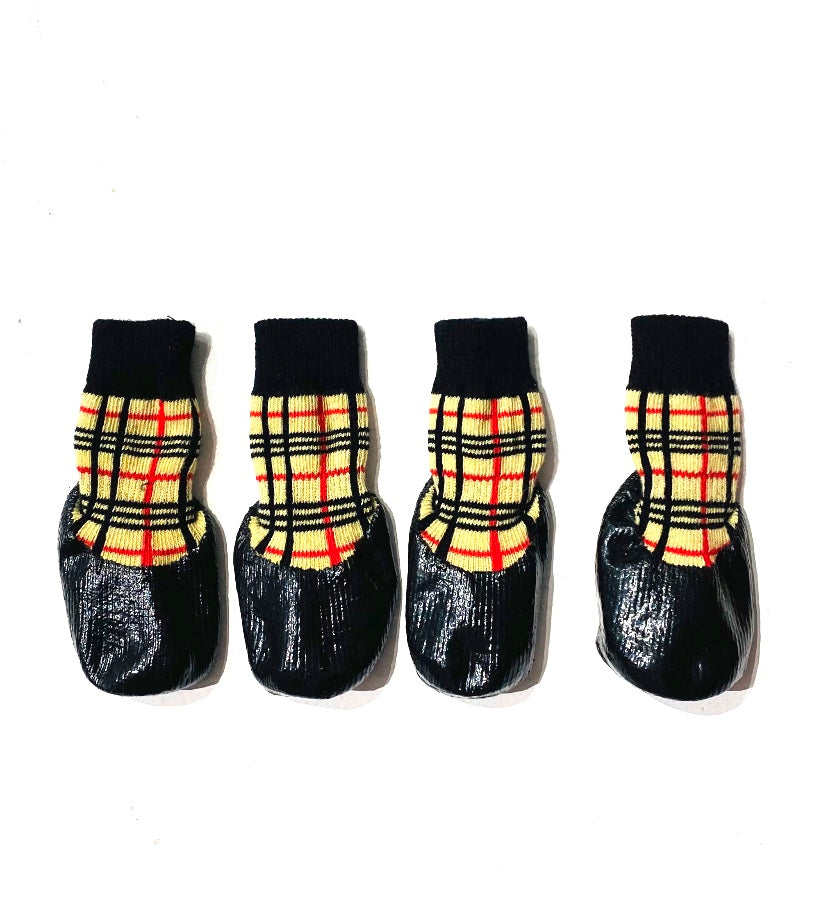 Socks that rock!

Our Rubber Dipped Socks feature a thick fully textured, rubber dipped sole. Adding extra protection to already amazing socks, they are extremely easy to put on. They are the perfect solution to keep paws dry, clean and warm!
Comes with velcro straps ensures the sock stays on even during the longest walks. Detach the velcro strap for use around the house! 
Protects paws from outdoor elements such as water, snow, dirt, salt and hot pavement.
Fully machine washable and reusable.
Quick Tip: To measure your pups paw, place their paw on a sheet of paper and trace!  Then measure your outline! 
| | | | |
| --- | --- | --- | --- |
| Size | Width | Height | Breeds |
| 2 | 1.5" | 1.8" | Mini Poodle, Chihuahua, Italian Greyhound, Yorkie, Pappilion |
| 3 | 1.7" | 2" | Pug, Shih Tzu, Cavalier, Pekingese, Dachshund |
| 4 | 2" | 2.4" | Beagle, French Bulldog, Shiba Inu, Schnauzer |
| 5 | 2.2" | 2.7" | Corgi, Dalmation, Cocker Spaniel, Border Collie |
| 6 | 2.6" | 3.2" | Bulldog, Boxer, Labrador, Golden Retriever |